We do great work for our nonprofit clients. Learn about our distinctive Salesforce implementation process!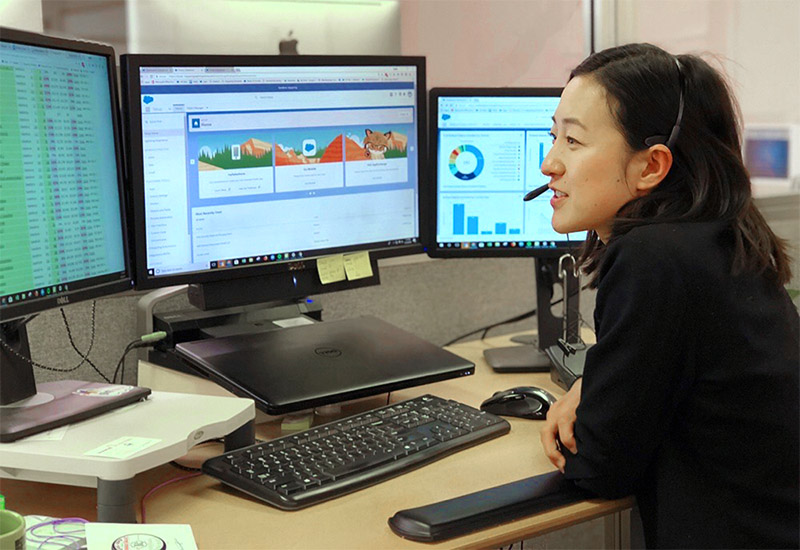 What makes Dayspring different
Dayspring Partners is a customer-centered nonprofit consulting firm. We provide a high touch approach where our Salesforce consultants get to know you and your organization, provide personal service during your project, and continue with you as your long term Salesforce partner even after the project is completed. We never outsource, and our consulting team works together in one office to provide highly collaborative, excellent service. Each of our consultants has a significant history of nonprofit involvement and service. You will notice the difference having an involved, caring, expert consultant will make. It's for good reason that 86% of our customers become repeat customers — having a consulting partner who knows your particular needs and your particular Salesforce instance is a huge advantage for an organization.
The 4 D's of Dayspring's project process
Dayspring project process utilizes the 4 Ds: Discover, Design, Develop, and Deploy. First, in Discover, we do a deep dive into your business processes to ensure that your proposed project addresses your actual needs. Next, Design is where we determine the particular ways we will configure Salesforce to meet your needs. After that, in Develop, we build the identified Salesforce functionality, creating objects, fields, integrations, etc. And finally, in Deploy, we help you roll out the new functionality, providing support and training. Throughout this whole process you will have a project manager/consultant who will have weekly calls with you to ensure the project is moving forward smoothly, to gather feedback, and to guide you through decisions and deliverables.
Daypring's modes of engagement
Dayspring Partners has identified four engagement modes that we use with our customers depending on their needs. Our customers may move from one engagement mode to another and then back as we partner together.
Strategic discovery and project planning: We engage with nonprofit organizations as they consider significant changes to their systems. We can help your leadership decide and prioritize which systems to move to Salesforce and which 3rd-party apps to implement, and we can also help to develop an implementation plan and estimate for making those changes.
Implementation project: We engage with you on a Salesforce implementation project, whether that is an initial implementation or a project to extend existing functionality. We support you and your organization in all phases of the implementation process, from discovery to design to development to deployment.
Salesforce overhaul and cleanup: Perhaps your Salesforce instance needs an overhaul and upgrade. We can analyze your current setup to identify pain points, obsolete functionality, data issues, needed upgrades, and configuration that is not best practice. Once these problem areas are identified, we can work to fix these issues and make you fully functional once again.
Ongoing support and training: Once we've done a project together, we provide you ongoing support and training. This could be as simple as a designated number of hours for support on a monthly basis, or it could be a regularly-scheduled support call where we work together to assess and address problems that arise. We also help organizations through staff transitions, train new staff, and help keep your Salesforce instance working great. We want you to be successful and are ready to provide you with the support and expertise you need to use your Salesforce system.
"Working with Dayspring has been a dream come true for me. This project involved cleaning up a code-heavy org, ensuring that we have sufficient test coverage in our code, and moving from code to clicks where possible. Their technical expertise, communication skills, and quick response time have made them excellent partners. I have more confidence in our Salesforce instance than I ever have before."